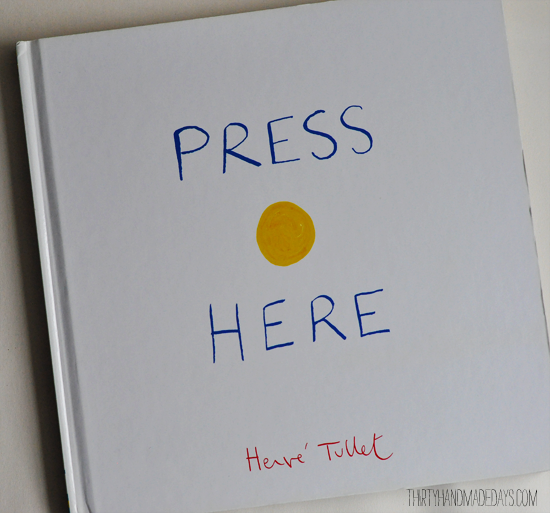 If you only buy one book next year make it this one! I am totally in love with Press Here by Herve Tullet (he is known as the Prince of Preschool in France). What's so special about this book you ask? The dots are magical. Yep, its an interactive book. It's not a digital book, it has a sturdy cover and thick glossy pages and it's amazing. This book is available at the Dakota County Libraries
Follow the directions in the book
Press
Shake
Blow
Clap
Rub
Tilt
See what happens to the dots!
(they change colors, move around on the page, grow....)
There are so many learning activities you can do with your child to extend this book.
Get a package of dot stickers and let your child make a dot collage.

Make a small booklet with some white sheets of paper folded together and let your chidl put dots on each page. Now have your child dictate to you what the directions should be on each page.

Do you have dot markers/painters at home? Your child could make dot pictures with those.
This mother has some great ideas to extend learning with this book:
Crayon Freckles
I've also pinned a number of activities on a Pinterest board because it's just that fun. http://pinterest.com/etriebenbach/press-here/